This post was first published in 2018, then upgraded in 2019. Now in 2023, my podcast kit hasn't seen too much change though I have added some extra Rode kit.
Note: This post contains affiliate links, meaning if you eventually purchase a product through one of these links it will generate a commission.
When it comes to podcast production, whether on the road or in the office, everyone will have a different take or a preference for another microphone or recording device. In a nutshell, though, the gear boils down to the same functions – something to record on, something to record with, something to listen to your work as you go, and something to edit on.
In brief: What's in my bag?
Zoom H6 (with dead cat cover, just in case)
Rode NTG-2 (it's a few years old now, also worth checking out the NTG-4)
2 XLR cables
2 sets headphones and a headphone splitter
1 pack spare AA batteries
2 16gb SD cards
Rode Wireless Go II (pair)
2 additional lav mics
Rode AI-Micro (pre-dates my Wireless Go II kit, allows for TRS and TRRS mics/lavs to be used with the phone)
You can tell I like my Rode gear, but they keep building and I'll likely keep buying.
In detail: What's in my bag?
Zoom H6
I've had my Zoom H6 portable recorder pretty much since it hit the market. Before that, I swore by my trust Zoom H4 and I'm pretty sure there was a Zoom H2 in there before that. The H6 gives you an incredible amount of flexibility thanks to four combo inputs and additional microphone attachments allowing you up to six channels for recording. It can run for hours on four AA batteries, recording to SD, or can be used as a USB audio interface in either stereo or multi-channel setups.
Format-wise you can start at 44.1kHz/16bit right up to 96kHz/24bit and if you're combining it with video, there's an optional hot shoe mount that can be attached, along with a plethora of accessories. For studio-quality recording in your pocket, the H6 is by far and away one of the most user-friendly options on the market that offers serious bang for your buck.
Rode NTG-2
My shotgun mic of choice for video for years, I started carrying the NTG-2 in my bag for walk-and-talk interviews. It's great at distance, ideal on the end of a boom pole and requires little maintenance. You can power it via phantom or pop in a single AA battery and it will last you weeks. I've used this for everything from voiceovers to countless radio interviews, to capturing audio for video and it's always performed. It's still available on the market at around the €240 mark depending on where you shop but has long been upgraded. The NTG-4 is in a similar price bracket but if you step up to the NTG-5 you'll start doubling your cash outlay.
Shure SM58
The industry standard when it comes to dynamic microphones. Tried and tested in every situation known to man, the Shure SM58 is a rockstar mic and I've carried at least one in my bag since 2006. At around €125ish each, they're virtually indestructible and never let you down. You're as likely to find them on stage at concerts the world over as you are at gigs in the back of a pub or in a reporter's bag.
2 XLR cables
XLR cables are the basics ties that bind the audio world together when it comes to professional microphones. Given I'm using the Zoom H6 quite a bit, I'll carry at least two cables with me that will have been checked and tested before I go recording. If I'm setting up for two people, I'll bring a third cable, and three people a fourth cable etc. Safety first.
2 sets headphones and a headphone splitter
Never leave home without headphones when you're recording and if you can bring a spare pair with you, do. I'll bring a set of over-ear headphones and in-ear buds with me wherever I'm going to record. It might sound harsh, but there's a special place reserved in audio hell for those who insist on recording without headphones or checking their levels before they push start – don't take up one of those places. Using a splitter (stereo) means I can offer a guest a set of headphones, or send a separate feed to a headphone amp (they come cheap), or my video camera.
1 pack spare AA batteries
The Zoom H6 will record for about 20 hours on just four AA batteries. That means I'll always carry an extra four with me, just in case. The NTG-2 also requires a single AA battery. If you're recording out in the sticks and you realise you need batteries, you're better off looking at them than looking for them.
2 16 GB SD Cards
Similarly, with batteries, SD cards can be fickle at times. The cost of SD memory cards has come down dramatically in recent years to the point where you can pick up (for example) a 128GB class-10 card with a write speed of 140mbps for roughly €15, at the time of writing at least. My Zoom H6 will take one card but I'll always make sure to have a second one just in case. If you do a lot of chopping and changing with cards. Typically for a transfer from the H6 I will opt to use USB mode and mount the card as a readable drive as opposed to taking the card out to pop into an external SD card reader. The less travel it has to do, the better.
iRig microphone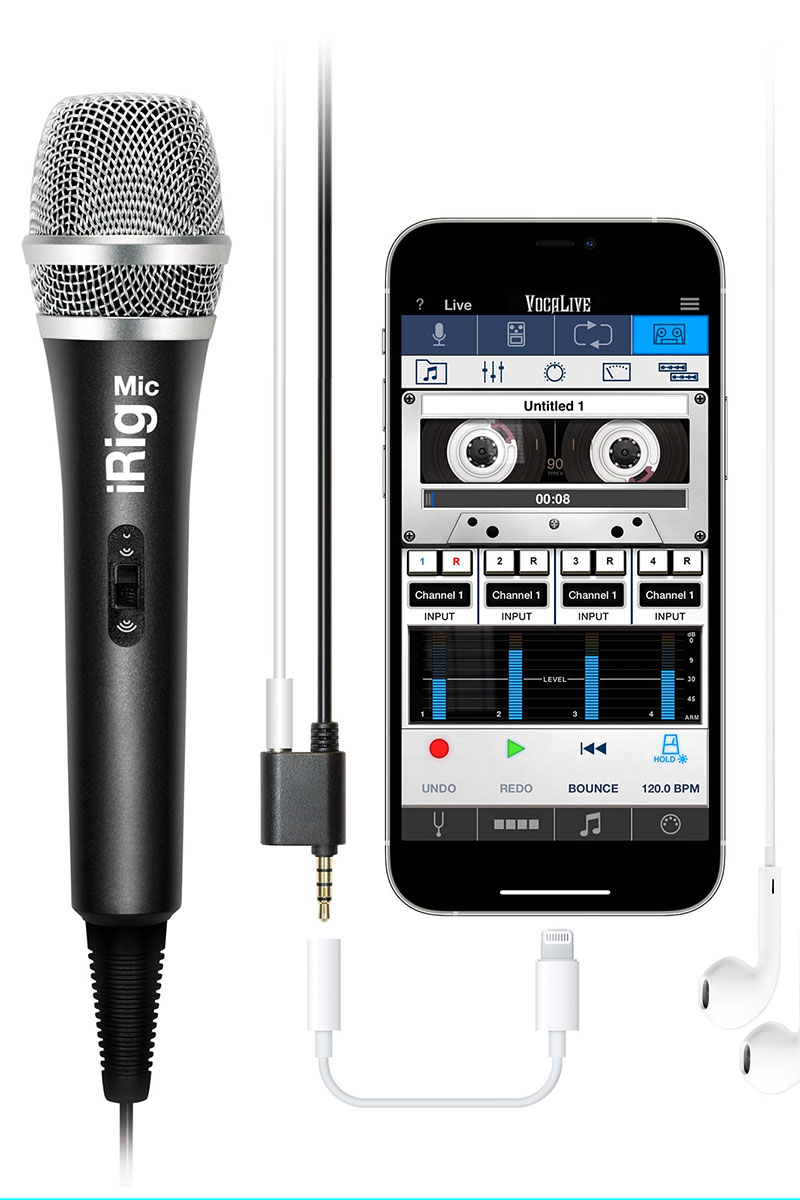 This one doesn't get too much use these days and requires an optional jack to USB/lightning adapter but if you're looking for a wired handheld option that links straight to your phone, the iRig mic is a great one to get you out of a spot of bother. Connected to an iOS device, it also has a headphone socket for monitoring your recording.
You can find out more from IK Multimedia.
Rode Wireless Go II (pair)
When the Rode Wireless Go appeared on the market, I knew they were going to become part of my setup. When the II came along, I jumped at the chance and ended up getting a complimentary Rode Interview Go (giving you a handheld option). The Wireless Go II gives you two wireless transmitters, good for a 200m line of sight, with a dual-channel wireless receiver that allows you to record transmitters separately or combined.
There's universal compatibility with cameras, mobiles, your laptop and more, meaning working with this piece of kit puts you in some rare air with capabilities. The Rode SC5 cable is included in the kit if you need to get audio to a DSLR but for iOS devices you'll have to acquire an additional cable. The transmitters also have a 3.5mm TRS input for use with lav mics.
Rode SmartLav+
Considering they work well with the Wireless Go kit, having a Rode SmartLav+ in my bag seems like a no-brainer now, but it was there before the wireless kit cropped up. If I'm looking for soundbites, or I'm at an event and want to travel really light, I'll grab my phone and the SmartLav+ and make for the door. You can get clear audio in a noisy environment and while it's not my first port of call, when the camera comes out and I want to hide a wireless transmitter, it does come in fierce handy.
2 additional lav mics
Secondary to the SmartLav+, I picked up a couple of off-market lav mics, both with 5-metre leads, more for video work than anything else.
Rode AI-Micro
Given that I've got a few lav mics in the bag, I figured I might as well have the Rode AI-Micro in there too. Pop it into an iPhone, connect two lav mics and a set of headphones and you've got a nifty dual-channel interface where you can effectively fit all your recording equipment in your pocket.
You could also use a RODE VideoMic, any wireless system that allows a 3.5mm connection or stereo microphones. TRRS connections are also supported. Not a bad option too for Zoom calls if you want some better quality audio or a bit of distance from your screen.
What's my home setup like?
For home sessions, I keep things fairly simple. There was a stage where I was using a 16-channel analogue desk, combined with the Focusrite Scarlet 18i20 for the PC or using the Digidesign 003 Rack with the Macbook (it also still works with Windows 10 with some gentle persuasion if you've got a FireWire card handy).
Nowadays it's much simpler
16gb microsd for internal recording
The Rodecaster Pro, while set up at home, is also terrific in a mobile setting and, with the right cabling, doesn't require mains power to run meaning you could run it powered by USB from a laptop. Or if you've got mains power, don't bother bringing the laptop and you've got yourself a multi-channel recorded with phone inputs, Bluetooth pairing and a fully programmable FX bank (which you can also use to load in pre-recorded audio).
Rodecaster Pro v1
With Class-A servo biased preamps, Aphex processing on board, the option to record in full multi-track, eight programmable pads, four mic inputs and five headphone outputs plus additional connectivity on USB devices (with a full mix-minus), TRRS and Bluetooth, the original Rodecaster Pro has gotten me out of so many holes in recent years and opened up countless possibilities for interviews whether over Zoom or Skype or my mobile (including WiFi calls or WhatsApp calls) without having to leave my desk.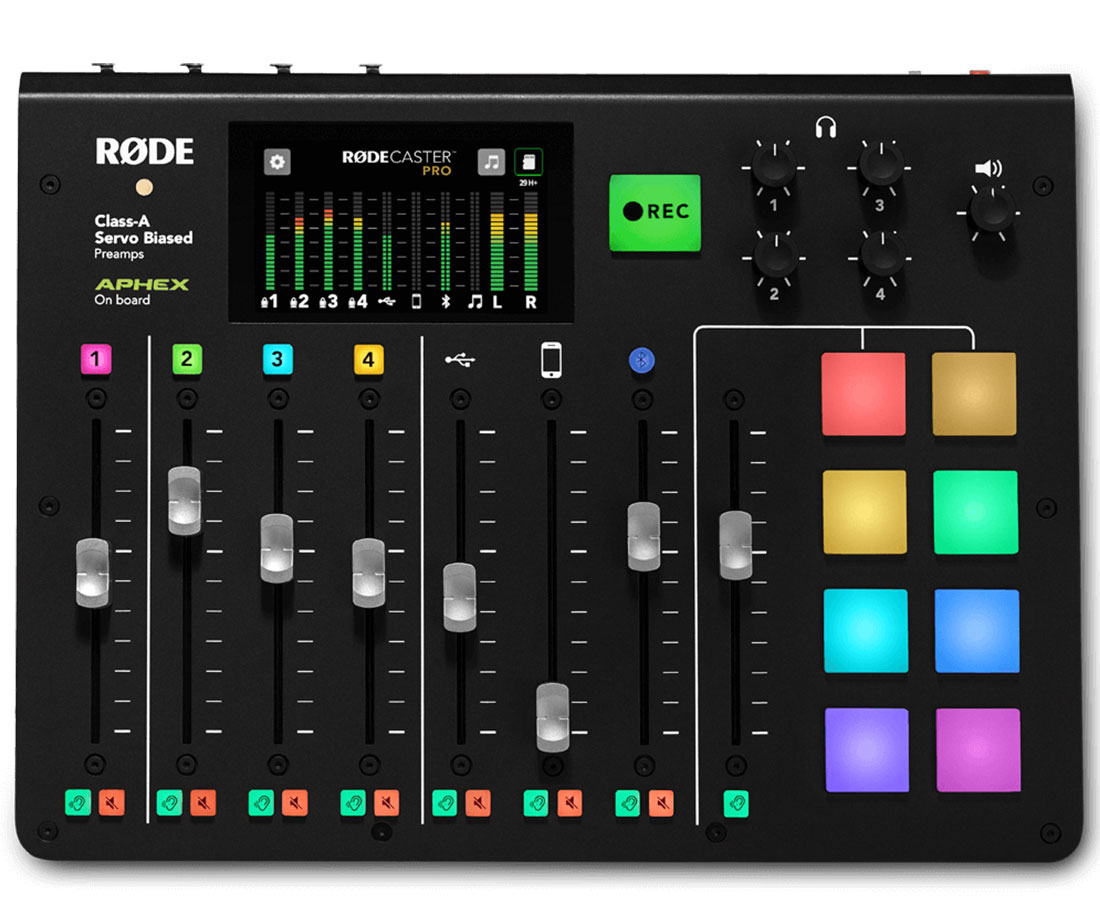 It's portable, mains powered with an optional extra to go USB-powered, and can work as a multi-channel interface with your DAW or a standalone recorder and that's just for starters.
More recently, I've made it part of my fledgling Twitch streaming efforts but if the budget was there wherever you're working or streaming from, I'd be recommending grabbing the first or second versions of these units, the more the merrier. It's a one-stop shop for podcast production and can easily be used in a live radio setting with broadcast meters and output muting also included. I've had good success in pairing mine with a Tieline VIA for home broadcasting and it comes packed with presets for a variety of RODE and non-RODE microphones to help you get the best production.
As interfaces go, they're not cheap and the latest iteration will set you back close to €700 a unit but the Rodecaster is easily one of the best audio purchases I've made in years. Learn more about it in detail here.
Rode PodMic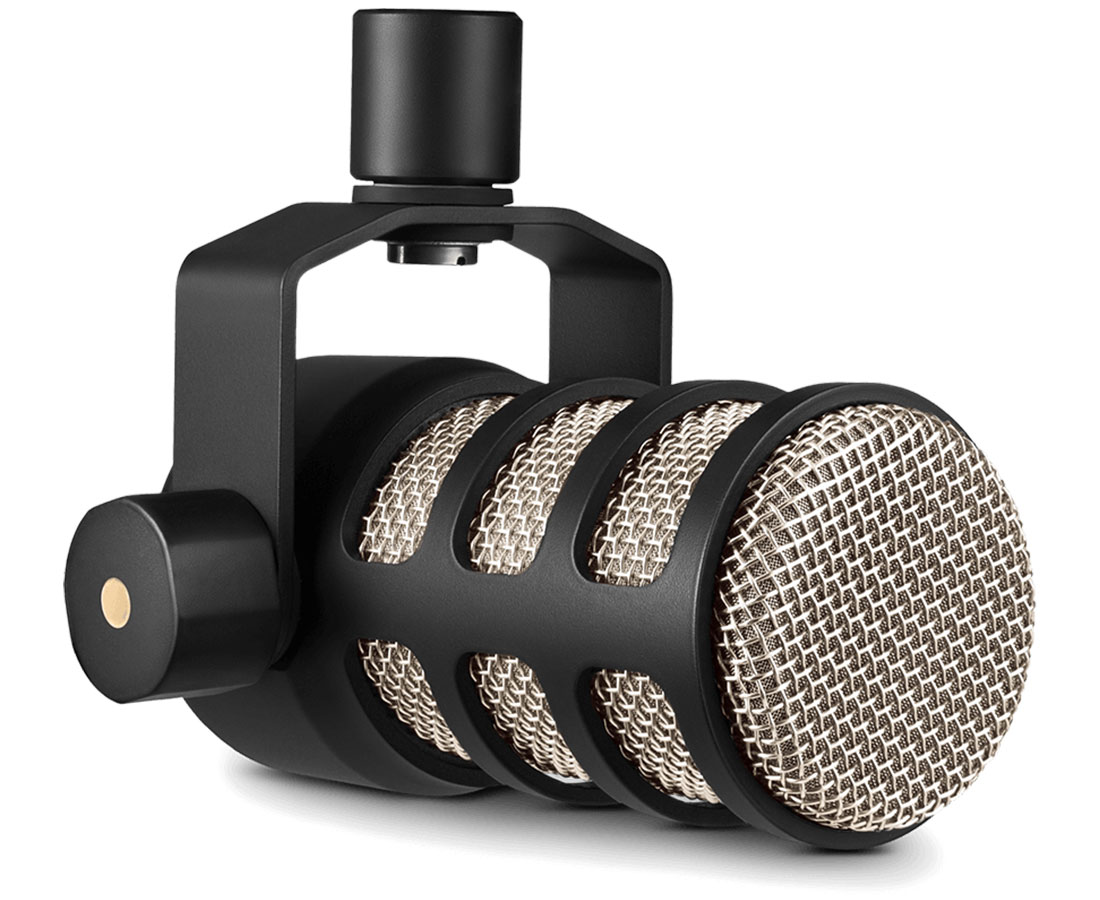 I've used plenty of different microphones for my home setup over the years but this year (2023) I picked up the RODE PodMic following a trip to Thomann's factory (town) in Germany, pairing it with the low-profile Elgato Wave arm. It's about a third of the cost of an SM7B, doesn't need half as much work to drive it and it's perfect for home podcast, broadcast or streaming use. Learn more about it on Rode.com here.
Beyerdynamic DT 770 Pro 250ohm headphones
I made the point above that if you're recording audio of any description, you better be wearing headphones. Well, when you're wearing headphones, you may as well be comfortable. I've got a black set of Beyerdynamic DT-100s looking at me here, a staple of radio stations around the world, but a few years back I upgraded them to a set of the Beyerdynamic DT 770s, mainly for comfort and some additional warmth (gotta love the velvet pads instead of the leather).
Elgato's Wave Mic Arm LP
The Wave Mic Arm LP from Elgato is a low-proflie studio-grade boom arm that sits below the shoulder line for an unobstructed view on camera – meaning it's idea for streamers or podcasters and broadcasters who don't like a mic arm dropping into their line of sight. For my home setup, it's popping out just under my monitor and gets pushed out to the side when not in use. For streaming in particular or videos I make at the desktop, you can't see it in shot, something that makes for a more engaging visual experience. More on Elgato.com.
16 GB MicroSD card
If you want to record directly to the Rodecaster Pro, you're going to need a memory card and in the case of the first version of the interface, it's MicroSD all the way. With the Rodecaster Pro you can record via USB and straight to the SD, including in multi-track mode.
But wait, there's more
There's definitely more gear on the go, something usually the case with anyone involved in live or studio engineering. I know if I open another pocket in the bag I'll find something stuffed there from a year or two ago, or discover I've extra cables or spare parts but ultimately you'll use what's right for the occasion and location you're recording in.
Given the portability of the Rodecaster Pro, I've used that previously to record episodes of The Football Manager Football Show when production studios aren't available, instead opting for an office setup. Similarly, there have been episodes of that podcast recorded using my Zoom H6 with two dynamic microphones (SM58s), in particular when we've had to record on location outside of the studio.
At the end of the day you'll find the right kit for the right location, but I like to have my bases covered when it comes to recording. If I add any more gear or refine my selections, I'll update this list in due course.
And if you've got any must-have pieces of equipment that you can't live without when recording, leave a comment below with details.