Whether you're a seasoned pro or starting out on your podcast journey – this can apply equally to radio too – you've got to consider having a running order. In fact, I'd say it's a must regardless of the medium you choose to convey your message.
I've produced countless shows, podcasts and events over the years and one of the big standouts is that the ones that find more success on the grounds and with listeners are those with a running order. Whether it's a one-hour production or a four-hour marathon, how anyone can approach a podcast or radio show without a running order amazes me.
Fail to plan, prepare to fail and all that.
So, why should you use a running order for your podcast or show? Here are six reasons that might sway you, with some added pros and cons below because you can't win everybody over…
1. Structured flow
Structure is key. It breeds consistency, making the content you're producing more digestible and enjoyable for your audience.
From past experience, even for a drivetime music show, a running order provided me with certain markers from time checks to show features, music, breaks, interviews and the rest. You planned from marker to marker and kept going. The running order also allows for seamless transitions between segments and helps contribute to a more polished, professional sound.
2. Time management
Using a running order means you can allocate time to each segment on your show or podcast effectively, making for more efficient use of your time and preventing any section from dragging on far too long. Much like gigs, standup comedy or theatre, people rarely give out about segments being too short but constantly over-running or dragging the tail end out of a feature can be a real turn-off.
For live radio shows, you might find a PD or programmer who is rigid about clock structure – a running order will help you fit within the allotted time slots you have and adhere to any clock constraints.
3. Clear communication
While the first two reasons are borne out of self-produced or single-producer podcasts or shows, when you've got multiple people involved in the production – say three or four contributors to a speech podcast and a researcher or showrunner – you'll find that a running order serves as a great communication tool to keep everyone on the same page. Where guests are privy to the layout of the show, it will also help them understand the flow and prepare accordingly. Got others working on social media aspects of your podcast? This will be the roadmap for their creative work in post-production (see reason six).
4. Content prioritisation
You can use a running order to highlight your most important content, ensuring that key messages aren't lost, or overshadowed. It also means you can distribute different types of content throughout your podcast, thus balancing your delivery.
5. Contingency planning
If something's going to go wrong, it will. If you happen to run into technical glitches or other unforeseen issues in a live or pre-recorded setting, having a running order means you can make quick adjustments on the fly by shifting spots up or down. It also allows you to plan some alternative or backup content to use if needed. Trust me, one day, you're going to need it.
6. Post-Production efficiency
For podcasts, a running order can serve as a roadmap during the editing process, making post-production smoother and more efficient.
Maybe your radio show is pre recorded? Hand off your links and running order to a producer and they will have no problem slotting in your beds, stings, sweeps, links, and tying together all of your content.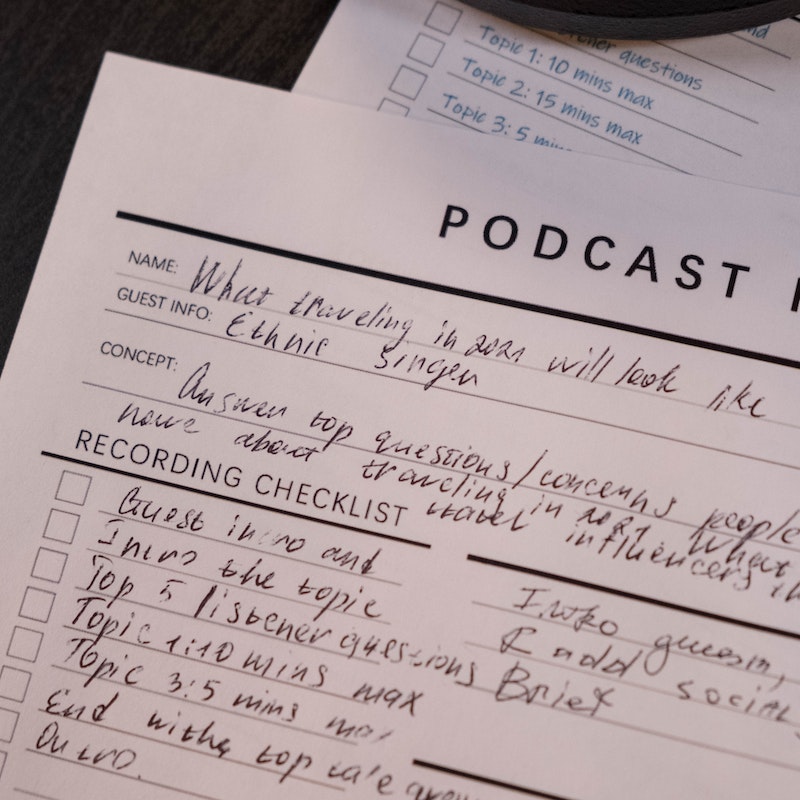 The pros and cons of running orders
This is where I should be arguing the case for running orders, but there's got to be some balance as they're not everyone's cup of tea. That doesn't mean you can't strike a balance by putting together a running order but allowing yourself some breathing room.
On the pro side, let's take three key points. A running order is going to enhance the professionalism of your podcast or show in creating a polished, well-structured and cohesive layout that appeals to listeners.
Also on the pro side you'll find that by having a clear plan in place, regardless of running times, your production process becomes more efficient, aiding in the effective allocation of time (and preparation) to each of your planned segments, making for smoother transitions and timely execution. Yes, there's still a human factor to consider, but it's still a pro nonetheless.
Lastly, where teams are involved or you've got multiple hosts or guests, a running order is one of the most valuable tools you can have in your arsenal to tackle coordination. It means everyone should be able to understand the flow, manage expectations and reduce any confusion or uncertainty during the recording process.
Again, while I'm all for running orders no matter how big or small the recording, I've been in rooms where they're not welcome, and here are some of the reasons why.
To start with, a running order can sometimes – not always – lead to a rigid format, potentially stifling spontaneity and organic conversations that might appeal to some audiences.
If you're short on time to begin with, they can be a time sink. Why? Well, you've got to out thought and time into preparing your segments, intros, questions for guests, facts and figures, time that some may prefer to simply spend recording.
Let's sum it up…
Running order pros
Professionalism: A running order enhances the professionalism of the show. It helps in creating a polished, well-structured, and cohesive program that appeals to listeners.
Efficient production: With a clear plan in place, your production process becomes more efficient. Now you're allocating time to each segment effectively, making for smooth transitions and timely execution.
Team coordination: For shows with multiple hosts or guests, a running order is invaluable for coordination. It ensures everyone understands the flow and expectations, leading to smoother interactions while helping to confusion during recording.
Running order cons
Rigidity: This is where creative presenters and strict producers can clash. A running order can sometimes lead to a rigid format, potentially stifling spontaneity and organic conversations that might appeal to some audiences (and presenters, no offence).
Preparation time: Developing a detailed running order requires time and effort upfront, especially if your show or podcast series varies in style from episode to episode. This preparation might be seen as cumbersome, especially for small teams or individual creators.
Creative constraints: While I see structure as beneficial, it might also limit creative impulses during recording, much like point number one. Presenters might feel constrained by the predetermined format and mat not explore interesting tangents or follow the conversation naturally. The latter is a skill but that's a conversation for another day.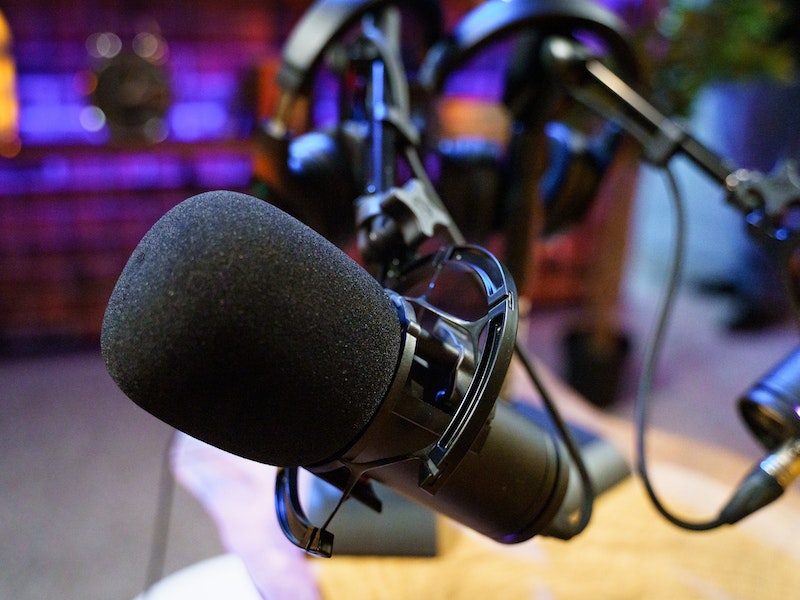 Sample running orders
All that said, let's take a look at some sample running orders. These podcasts are purely fictional, and purely flexible, with an option for a music-based podcast, and a talk-based podcast with a football flavour. Feel free to copy/paste/adapt. If you find these useful, let me know in the comments below.
Sample running order: Music podcast
For this podcast, I've gone with a mix of chat and music, covering industry news, an artist interview, back-to-back songs from an artist's spotlight, a playlist segment that covers up to eight songs and some closing remarks. Before Spotify playlists, music podcasts were more about music, but the format is still applicable whether for podcasts or a special interest radio show.
Podcast Title: Give your podcast a title here
Episode Title: Give your episode a title here, save thinking of one at the end of post-production
Total Duration: 60 minutes
Segment 1: Introduction (2 minutes)

Host introduces themselves and the podcast, providing a brief overview of what listeners can expect in this episode
Tease the special guest artist for this episode and the artist spotlight


Segment 2: Industry/topical news roundup (5 minutes)

Use this segment for a quick recap of significant events or news in the music industry
Announce or tease any big upcoming music releases or events


Segment 3: Artist interview (15 minutes)

Introduce your guest artist
Discussion on the artist's career, recent works, future projects
If you can, get a live song or two, perhaps book-ending the feature i.e song/interview/song


Segment 4: Music Playlist (25 minutes)

Playing 8-10 songs with short links every other song
Better again, get the playlist put together by your guest artist
For links think artist name, album, release, socials or upcoming gigs


Segment 5: Artist spotlight: Back-to-back songs (10 minutes)

Without an interview, this section can be used to spotlight another artist
Play 2-3 songs by your chosen artist, with some commentary on each song's significance or background
Again, provide contact/social details to wrap the segment


Segment 6: Closing remarks (3 minutes)

Thank the guest artist for joining the episode
Recap the highlights of the episode
Announce next episode's date, topics and guest
Closing remarks and sign-off
Your running order should also include details of all songs played including artist, track name, track duration and any other relevant info.
Sample running order: Talk-based podcast (football-themed)
For this running order, I'm taking the sports route, spreading the content between news, an interview, fan engagement, analysis and previews, a debate and a quick roundup. That's more than enough to see you off and running.
Podcast Title: The Soccer Show
Episode Title: Countdown to the Champions League Knockouts with Cristiano Ronaldo (wishful thinking)
Total Duration: 60 minutes
Segment 1: Introduction (2 minutes)

Host introduces themselves and gives a quick overview of this episode
Tease out the special guest(s) and upcoming segments


Segment 2: Football news flash (8 minutes)

Recap major news and developments in the big European leagues.
Brief discussion on significant transfers, headlines of recent days, injuries or controversies


Segment 3: Featured interview (15 minutes)

Introduce the special guest for this episode (let's call him Cristiano Ronaldo), or maybe it's another player, manager or supporter
Conversation about their playing/managerial career, insights on the game, some personal anecdotes
Discussion on current team performance, expectations for the season
Note: this section might need to pre-prep with the guest so they've also done their homework


Segment 4: Fan's corner (7 minutes)

Use this segment to highlight fans' comments and opinions (maybe on the previous episode or topic for this episode)
Host(s) read selected fan messages or play voice notes sent in by listeners
Offer quick reactions and responses to fans' opinions


Segment 5: Match previews (10 minutes)

Preview upcoming round of Champions League knockouts (as per the title) or standout games in various leagues or competitions
Provide analysis and predictions for each of the key games


Segment 6: Round table debate (10 minutes)

This one certainly works better in a two-hander scenario unless you've got a solid rant / soap box ready.
Involve different viewpoints either from co-hosts or invited experts


Segment 7: Roundup & closing remarks (6 minutes)

Do a quick roundup of the episode's highlights
Announce the next episode's date and tease the content that's coming up
Thank guests and any participants from the debate segment


Segment 8: Guest's song pick (2 minutes)

"End on a song", get your guest to pick a song to close the episode. Lord only knows what Cristiano Ronaldo listens to.
Host introduces the song, thanks listeners, gives the subscription details, off you go.
This running order offers a balanced and engaging structure for a football-themed podcast, providing variety and comprehensive coverage while allowing for interactive and entertaining segments and, if you can stick to the timings, it's all wrapped up in 60 minutes. It's hard to beat consistency like that.
You'll notice some of it in play with The Football Manager Football Show.
Feel free to adjust the durations and content to suit your podcast's unique style and audience but if you launch a podcast based on the running order or framework above, be sure to let me know in the comments so I can give it a listen.