Starting a podcast can be an exciting venture, with low barriers to entry, that can ultimately give you a platform to share your passion, knowledge, or stories with a global audience.
Note: This post contains affiliate links to podcast hosts, meaning should you choose to sign up for a host from my link, I may receive a small commission.
If you're thinking about starting your own podcast, the odds are you're already listening to podcasts so you may have some idea how things come together. If not, but you're ready to dip your toes into the world of podcasting, this post series should help. I'm calling it Podcasting 101 and over the course of six posts you'll be able to get a feel for what you need to do to start a podcast and believe it or not, for me at least, it all begins with a pen before you go near a microphone.
To get this series underway, I'm going to share ten things you should do ahead of your first podcast release. You'll find more podcasting posts and tutorials here on the blog that delve into these topics a little deeper.
10 things to do when starting a podcast
1. Define your niche
Before you hit record, it's crucial to define your podcast's niche. Yes (and with apologies), it sounds like a very American thing to say. Just don't pronounce it as nitch. Essentially, before you hit record or open your mouth, know what it is you're going to be talking about and what the focus of your podcast is. Is it about general health? Is it something more specific like dealing with diabetes? Is it a football podcast, or a Liverpool football podcast? As yourself, what topics will you cover? Who is your target audience? A well-defined niche helps you create focused, engaging content that will appeal to a specific listener demographic.
2. Plan your format
Podcasts come in various formats, from solo and co-hosted shows to interviews, narratives, and round-table discussions. Decide on the format that best suits your content and presenting style. For me, my first season of the 'Food In 5 Minutes' was a 'solo cast' i.e. just me, discussing the food news of the week, for five minutes.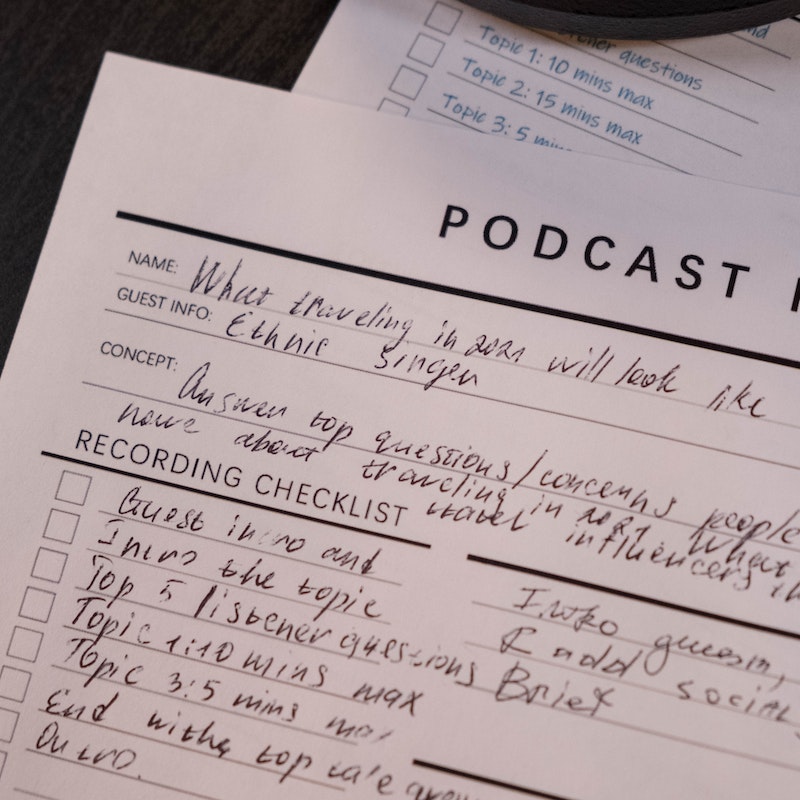 For The Football Manager Football Show, the format is clear – co-hosts with a back-and-forth on a specific set of topics. Ask yourself, what should my presentation sound like and, just as important, how long will my podcast be? If you're aiming for 60 minutes, be sure you can fill 60 minutes and do it regularly (see my final point).
If you need help with formats, here are 6 reasons your podcast needs a running order.
3. Craft engaging content
Cash was king until contactless came in. No matter what they tell you though, content is most definitely king. Once you've got your format decided, you should plan out your podcasts meticulously, ensuring they offer value to your listeners. Whether it's entertainment, education, or inspiration, your content should be compelling and well-organised. Being strict from the offset will reap dividends down the road.
4. Invest in quality equipment
Good audio quality is non-negotiable. As someone working in commercial radio, I can tell you with no uncertainty – there is no excuse for poor-quality audio. If you've got a budget, invest in a decent microphone, headphones, and an audio interface. You don't need a professional studio, but a quiet, suitable recording space is essential.
If you're planning on recording everything on your phone and you don't have the budget to spend on hardware, aim for as clean a sound as possible, avoiding wind, plosives and pops. I'll be honest – I've switched off or abandoned more podcasts in recent years because audio quality lets the hosts or guests down. When your listener only has a finite amount of time and you're hoping they'll spend it on your podcast, you should be delivering a polished product.
And if you're planning on going down the video podcasting route, investing in quality equipment becomes a bigger task when you have to start budgeting for cameras or editing software. But if you're delivering quality audio straight out of the traps, you're already streets ahead of so many other podcasts.
5. Learn basic audio or video editing
Do yourself a favour and familiarise yourself with audio editing software. Yes, there are tools and services that allow you to record a podcast without the need for any editing software (hello, Anchor), but learning basic editing skills can significantly enhance your podcast's sound quality, help remove awkward silences, umms, aahs, and background noise.
Whether you're running a 20-year-old version of Cool Edit, a free version of Audacity or the latest versions of Adobe Audition or ProTools, do yourself a favour and get comfortable with the basics of audio editing. You don't need to spend on the software, but you should get a feel for how you can tighten your final file before uploading.
6. Create eye-catching artwork
Your podcast's cover art is the first thing potential listeners see. Design eye-catching, professional artwork that accurately represents your podcast's content and tone.
You can direct potential listeners to your podcast by any means, but if you're hoping to catch casuals browsing through Apple Podcasts or Spotify, a visual that pops will go a long way.
7. Write a compelling podcast description
When it comes to listing your podcast on different directories or aggregators (think Apple Podcasts, Pocketcasts, Spotify etc.), you've got room for a few lines that will help sell your audience on what your podcast is about.
As an example, I've been listening to a lot of True Spies this year, great on late-night walks. Would this capture your attention?
"True Spies takes you inside the world's greatest espionage and detective operations. Our hosts Hayley Atwell, Vanessa Kirby, Sophia Di Martino and Daisy Ridley talk to the real spies behind the missions. What do they know? What are their skills? And what would you do in their position? We explore and investigate real life thrillers, mysteries and crimes – stories that prove truth is stranger than fiction!"
In three lines we know exactly what the podcast is about, who the hosts are and what listeners can expect for each episode. Find it on Spotify here.
So craft yourself a concise, engaging podcast description that outlines your show's content and unique selling points. Again, your podcast description can help you stand out in podcast directories and attract your target audience.
8. Choose a Hosting Platform
Now you've got yourself a niche, a format, a name, some snazzy artwork and a compelling description, it's time to put your podcast live. To do that, you'll need to select a reliable podcast hosting platform to store and distribute your audio files. Your host should offer sufficient storage, bandwidth, and distribution options to major podcast directories as a standard.
Gone are the days of having to host a podcast yourself and build your own RSS feeds (been there, done that). Instead, there are plenty of platforms that will see you right, offer embeddable players, dedicated podcast websites, transcription services and more.
Some providers will charge you per podcast hosted, others will charge you based on downloads but allow you to set up as many podcasts as you like. Where you end up may be decided by your budget, but you'll find some free and paid options below.
I'll break down the best and worst sides of podcast hosts in a later post along with DIY options on hosting your own without the restrictions of a third-party host.
9. Promote your podcast
When you've got your first episode published, it's time to leverage social media, your website, and other channels to promote your podcast.
If you're opening up social profiles specifically for your podcast, then start by going to where your audience is going to be found. If you're business and technology-driven, maybe LinkedIn is a good place to start. For The Football Manager Football Show, Twitter was always going to be the place to get up and running first because that's where a lot of the conversations around the game happen in the open.
Check Discord servers that you're registered with, forums, Facebook groups, and friendly Reddit threads or start at the beginning and drop an email to friends and family to let them know you're up and running.
As you grow your podcast archive, engage with your audience, encourage subscriptions, promote back-episodes (previous releases) and ask for reviews to help boost your podcast's visibility.
10. Stay consistent
I hinted at point number 10 at the outset, but consistency is key to building and maintaining an audience. Knowing your format is one thing, but being able to hit your releases consistently is such a big thing. There's nothing that grinds my gears like a podcast advertised as 'weekly' only to see three or four weeks between episodes, with the next release finding the host beginning the podcast with an apology. .
You can either stick to the schedule you've planned or you can't. If you can't, find one that you can stick to, releasing episodes regularly, whether weekly, bi-weekly, or monthly, and keep your content fresh and engaging.
Any advice?
So there you have it – 10 things you can do when starting a podcast that will hopefully make your experience, and that of your potential listeners, better.
I'll go into more detail at a later date but if you've read through the above and you've got something to add or a tip that you find useful, sound off in the comments below. Above all else, enjoy the process. Podcasting should be a fun, rewarding experience and if you're passionate, know your audience and have a plan you can stick to, it won't be long before you start reaping those rewards.